Search Jobs in Higher Education
By Category:
By Location:
By Type:
Special:
Across the country, a lively debate about the value of college has been gathering steam. Long a staple of the American dream, a college education has become the target of skeptical questioning, an inquiry invigorated by rising college costs and faltering job prospects...
More often than not, the first impression you make with a recruiter is in writing. So, if you want to stand out like a dream candidate, write like one.

Published by HigherEdJobs, this quarterly report analyzes trends in higher education employment.

View median salaries for hundreds of faculty, administrative, and executive positions.

Job Seekers
HigherEdJobs
VIP Position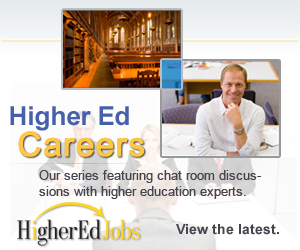 POSITION