Search Jobs in Higher Education
By Category:
By Location:
By Type:
Special:
The job search process in academia is simply different than in any other industry -- for example, it tends to be much more committee-oriented, rules-driven, and transparent. Even internal candidates who have proven themselves over many years in their institutions are rarely simply promoted but must participate in an open search and be properly vetted alongside other candidates.
Higher education marketing practices and techniques have evolved dramatically over the years for every type of institution. This month we are fortunate to hear the perspectives of marketing experts from a community college, a private institution and a public university.

Published by HigherEdJobs, this quarterly report analyzes trends in higher education employment.

View median salaries for hundreds of faculty, administrative, and executive positions.

Job Seekers
HigherEdJobs
VIP Position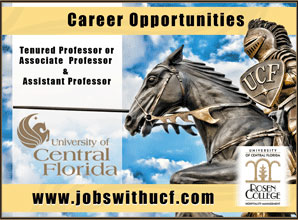 POSITION
LOCATION
Orlando, FL