American Public University System
Charles Town, WV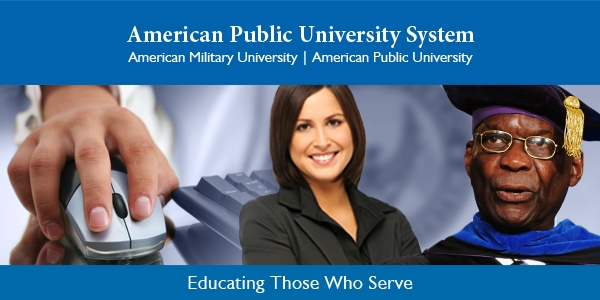 American Public University System, through its two institutions, American Public University and American Military University, is currently educating more than 80,000 distance learners studying in 50 states and more than 100 countries. We are rapidly growing our student base, expanding into new markets, and employing technology in exciting new ways to continue to make education a reality for people around the world. We need qualified and dynamic people from all backgrounds to allow us to live up to our mission of making education accessible to all.
Our Mission
To provide quality higher education with emphasis on educating the nation's military and public service communities by offering respected, relevant, accessible and affordable, student-focused online programs, which prepare them for service and leadership in a diverse, global society.
Qualifications
Undergraduate Instructors must hold a minimum of a master's degree from a regionally accredited institution, or a master's degree with a minimum of 18 semester hours in the discipline you wish to teach. Other requirements may apply. Graduate level faculty must hold a terminal degree in the respective discipline. Recent AMU or APU graduates should be aware that it is APUS policy not to hire alumni until they have demonstrated significant classroom experience outside of our own university system. A period of two to five years of outside experience is required. This policy ensures that the body of faculty at APUS maintains a variety of perspectives and brings fresh ideas to our organization.
Required Software