Search Jobs in Higher Education
By Category:
By Location:
By Type:
Special:
NEW YORK (AP) -- Five days before he was to start college, Fred Maahs' world turned upside down. Off the Delaware coast in 1980, on the last day of summer vacation, the 18-year-old took a dive from his family's boat into an unseen sandbar barely a foot below the surface, sustaining injuries that paralyzed him from the chest down.
With a dramatically increasing number of both traditional and non-traditional students seeking post-secondary education, student retention and post-grad outcomes continue to be an increasingly important topic for both colleges and universities.

Published by HigherEdJobs, this quarterly report analyzes trends in higher education employment.

View median salaries for hundreds of faculty, administrative, and executive positions.

Job Seekers
HigherEdJobs
VIP Position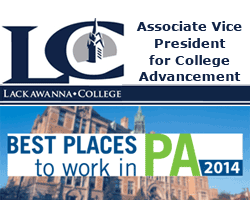 POSITION
LOCATION
Scranton, PA