New York College of Podiatric Medicine
New York, NY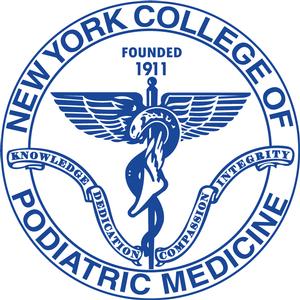 The New York College of Podiatric Medicine (NYCPM) offers a four year program leading to the medical degree of Doctor of Podiatric Medicine (D.P.M.). In addition to the DPM degree, we offer postgraduate programs leading to a Certificate of Residency, Preceptorship, and Fellowship. The Foot Clinics of New York provides an educational extension site for a number of our third year students and podiatric residents.
NYCPM is the largest and oldest of the nine United States schools of Podiatric medicine. This institution has graduated over twenty five percent of all practicing podiatrists in the nation.
The college offers progressive podiatric medical educational and training programs reflecting the latest in medical and technological innovations. College curricula parallels that of colleges of allopathic/osteopathic medicine. Two years of basic sciences and two years of clinical sciences comprise the four year program leading to the degree of Doctorate in Podiatric Medicine.
NYCPM is chartered by the Regents of the University of the State of New York Education Department. The institution meets all the professional educational requirements for licensure.
We are located in Upper Manhattan with easy access to seven subway lines and several bus lines. The institution is located adjacent to the 125th Street Metro_North Station. We are five minutes from Queens and 15 minutes from New Jersey.