Saint Vincent College
Latrobe, PA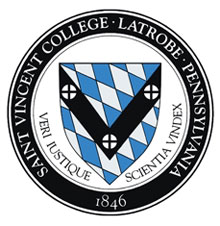 Saint Vincent College is an educational community rooted in the tradition of the Catholic faith, the heritage of Benedictine monasticism and the love of values inherent in the liberal approach to life and learning. Its mission is to provide quality undergraduate and graduate education for men and women to enable them to integrate their professional aims with the broader purposes of human life. The programs, activities and encounters that make up student life at Saint Vincent College encourage the intellectual gifts, professional aptitudes and personal aspirations of students to mature harmoniously.
General Information
Saint Vincent College is a Catholic liberal arts college sponsored by the Benedictine monks of Saint Vincent Archabbey, the first Benedictine foundation in the United States, founded in 1846.
Saint Vincent College is accredited by the Middle States Association of Colleges and Schools. Location: 200-acre suburban campus in Unity Township near Latrobe, 40 miles east of Pittsburgh on U.S. Route 30 East.
Travel to SVC via the Pennsylvania Turnpike (exits 67, 75, or 91), Arnold Palmer Regional Airport, Westmoreland County Transit Authority or Amtrak.
For a faculty member committed to undergraduate or graduate teaching, Saint Vincent College is a great place to work. As you investigate whether Saint Vincent College is the right place for
you, a few locations on the Web will help you learn more about us and about living in
southwestern Pennsylvania.
Saint Vincent is located on the edge of Latrobe in a picturesque suburban setting. Faculty members tend to live in Latrobe, Greensburg (the county seat and largest community in Westmoreland county, about seven miles west of campus), or Ligonier (a very charming small community, about 10 miles east of campus). There is also a wealth of information about the area on the Tribune-Review and Pittsburgh Post-Gazette websites.
The quality of life in Westmoreland County is very good. Our immediate neighborhood, the Laurel Highlands, offers some wonderful opportunities for outdoor recreation including everything from mountain biking, hiking, snow skiing in winter and whitewater rafting in the summer. Nearby are some notable historical sites and destinations of cultural significance such as Frank Lloyd Wright's famous "Fallingwater." The Palace Theater in Greensburg is a local venue for the performing arts, including a regional symphony orchestra. We also have our own Saint Vincent Theatre that generally produces three professional-equity shows per summer season. The Westmoreland Mall on the eastern side of Greensburg is a major regional shopping mall. Those few things you can't find in the Latrobe-Greensburg area will surely be in Pittsburgh - only 40 miles away. Among other Pittsburgh attractions, you'll find some outstanding museums, fabulous performing arts -- including the world-class Pittsburgh Symphony -- and a fascinating set of neighborhoods to explore. Pittsburgh has a great sports tradition and the pro teams are a pride of the region. Saint Vincent hosts the summer training camp for the Pittsburgh Steelers football team and you'll find hundreds of fans on campus every late July and August!
Most studies show the cost of living in southwestern Pennsylvania to be slightly below the national average cost of living and quite reasonable compared to much of the eastern United States. If you'd like to get a sense of the cost of housing, try a search in realtor.com for Westmoreland County including "Latrobe" "Unity Township" and "Greensburg." For a sense of rental housing options and cost within Westmoreland county, check the online classified advertising on the Tribune-Review website.
The Latrobe area offers good schools -- both public and parochial. These websites provide information for the Greater Latrobe Public Schools, Christ the Divine Teacher (K-6) Catholic School in Latrobe, Aquinas Academy (Catholic K-8) in Greensburg and Greensburg Central Catholic High School. Other nearby public districts include: Derry Area, Ligonier Valley, Hempfield Area and Greensburg-Salem.
There are several transportation options for travel into and out of the Latrobe area. The campus is than a mile from U.S. Route 30 just over 10 miles from the Pennsylvania turnpike. The Arnold Palmer Airport (LBE) in Latrobe, just a few miles from campus, is served by Spirit Airlines with daily flights to Ft. Lauderdale, Orlando, Myrtle Beach and Dallas. A wide range of airlines, including several low-cost carriers, serves the Pittsburgh International Airport (PIT). Driving time from Latrobe to the Pittsburgh airport is about an hour and 15 minutes but can be more depending on route and traffic in Pittsburgh. There is Amtrak service daily in Latrobe and Greensburg. To the east, Amtrak serves Philadelphia, New York and Washington, D.C., and to the west the route goes to Chicago with a change of trains in Pittsburgh. There is regional bus service throughout Westmoreland County and public transportation is an option to reach campus (Route 9).
In addition to the college, the campus houses Saint Vincent Archabbey, the oldest Benedictine Abbey in the U.S., Saint Vincent Seminary, which offers graduate degrees in theological studies, including preparation for the Roman Catholic priesthood, and Saint Vincent Basilica Parish, which was founded in 1790 and is one of the oldest Catholic parishes in western Pennsylvania. Saint Vincent Archabbey is one of the largest communities of Benedictine men in the United States.
Programs of study include Accounting, Anthropology, Art History, Art Education, Arts Administration, Biochemistry, Bioinformatics, Biology, Business Economics, Business Education Information Technology, Chemistry, Communication, Computing and Information Science, Criminology, Law and Society, Economics, Education (Early Childhood, Middle Grade, K-12, Secondary), Engineering Science, Engineering (3/2), English, Environmental Chemistry, Environmental Science, Finance, Graphic Design, History, International Business;
Liberal Arts, Management, Marketing, Mathematics, Mathematics/Engineering (3/2), Music, Music Performance, Occupational Therapy (M.O.T.)*, Pharmacy (Pharm.D.)*, Philosophy, Physical Therapy (D.P.T.)*, Physician Assistant (M.P.A.)*, Physics, Physics Education, Political Science, Politics, Pre-Health Professions (Accelerated Osteopathic*, Accelerated Podiatric*, Allopathic, Chiropractic, Dental, Osteopathic, Optometry, Pharmacy, Podiatric, Veterinary), Pre-Law, Psychology, Public Policy, Sociology, Spanish, Studio Arts and Theology.
*through cooperative agreements with programs at respected colleges and universities
Saint Vincent College's approach to education is rooted in a core curriculum that provides all students with a broad-based education that provides a general body of knowledge in the humanities, social sciences, natural sciences and mathematics, an interdisciplinary view of that knowledge base, and the skills to increase that general body of knowledge throughout their lives.
We also offer graduate programs in business, education and health professions.
Faculty
Saint Vincent's full-time faculty totals 105. Nearly 90% of ranked faculty have earned doctorates or terminal degrees at such schools as Catholic University, Cornell, Ecole Biblique, Notre Dame, Stanford, University of California, University of Chicago, and Yale. The student-to-faculty ratio is 13 to 1.
Students
Total Undergraduate Enrollment (Fall 2013): 1,606 (1,532 full time, 74 part time; 830 men, 776 women). More than 70% of full-time students reside on campus.
· Total graduate enrollment: 222
· 183 (12%) students (undergraduate) represent minority groups.
· Entering Freshmen (Fall 2013): 472 (SAT 25th and 75th percentiles: 980 and 1150
· Freshman-to-Sophomore Retention: 85%

· 4-Year Graduation Rate: 63.4%
· 6-Year Graduation Rate: 69.81% Student Outcomes
Degrees Conferred in 2013 (July 1, 2012 to June 30, 2013): 353 undergraduate, 74 graduate

95% of 2012 grads employed, pursuing advanced degrees, or pursuing other continuing professional education (75% employed; 21% pursuing advanced degrees, 4% pursuing other continuing professional education and 26% services/military).
Rankings and Honors
Saint Vincent College's quality educational programs have earned national recognition
Repeatedly from U.S. News and World Report's Annual Guide to America's Best Colleges, National Review College Guide to America's Top Liberal Arts Colleges, Barron's 300 Best Buys in College Education and U.S. News and World Report's Guide to Best College Values, among others.
Alumni
Saint Vincent takes special pride in more than 12,500 alumni who live in all 50 states and 28 foreign countries. They serve society in the fields of business management, education, finance, medicine, religion, law, government, sales, engineering, computer technology and many others.
Athletics
Bearcat Athletics
Saint Vincent athletes compete in the National Collegiate Athletic Association (NCAA) Division III in the Presidents' Athletic Conference.
· Men - Baseball, Basketball, Cross Country, Fencing (club), Football, Golf, Ice Hockey (club), Lacrosse, Soccer, Swimming, Tennis and Track.
· Women - Basketball, Cross Country, Fencing (club), Golf, Lacrosse, Track, Soccer, Softball, Swimming, Tennis, Volleyball and Equestrian (club).
· Intramurals- Aerobics, Basketball, Deck Hockey, Flag Football, Softball, Table Tennis, Soccer, Ultimate Frisbee, Volleyball and Weightlifting.
· Recreational Facilities - Baseball field, fitness center/exercise room, fitness trail, football field, gymnasium, lacrosse field, soccer field, softball field, swimming pool, tennis courts and weight room.
Special Programs
Academic Honor Societies, A.J. Palumbo Student Research Endowment Grants, Certificate Programs, Continuing Education, Cooperative Education and Internship, Elizabeth and Tom Andreoli (C'56, Sc.D. '87 [hon]) Traveling Scholar Awards, Environmental Education, George Washington Fellowships, Honors Program, Independent Study, Interdisciplinary Writing, John L. Pollock Student Research Award, Study Abroad, Summer Sessions, many others.
Student Clubs and Activities
Broadcasting Group, Campus Ministry, College Democrats, College Republicans, Concert
Series, Dream Keepers, Fine Arts, Habitat tor Humanity, Health and Fitness, lectures,
newspaper, Outdoors Club, Pep Band, Pre-Law, Respect for Life, Ski Club, Student Government
Association, Theatre, yearbook, many others.
Physical Resources
Saint Vincent Library- 268,324 books, serial backfiles and government documents accessible through on-line catalog; 791 current periodicals, newspapers, and government documents;
98,880 microforms; 3,966 video and audio titles; rare book collection.
Fred Rogers Center - Staying true to the vision of Fred Rogers, and emulating the guiding principles of his life's work, the mission of the Fred Rogers Center is to advance the fields of early learning and children's media by acting as a catalyst for communication, collaboration, and creative change.
More than 50 years ago, Fred Rogers was the first to recognize the immense potential of television for nurturing and educating young children. In 2000, he began to lay the groundwork for helping current and future generations to reap these same benefits from children's media. Collaborating with leaders from Saint Vincent College and a team of nationally recognized advisors, Fred Rogers began developing his vision for an international center that would bring together the brightest thinkers and practitioners in early learning, early childhood development, and children's media. In September 2003, the Fred Rogers Center was established at Saint Vincent College. As a national and international resource for addressing emerging issues affecting children from birth to age 5, the Center continues Fred's commitment to building bridges between early learning and children's media. The work of the Fred Rogers Center resonates with Fred's own belief in the positive potential of television and new media for supporting the healthy social, emotional, cognitive, and physical development of young children. Saint Vincent College houses the Fred Rogers Archives and the Fred Rogers Exhibit. For more information about the Fred Rogers Center at Saint Vincent College, please visit
www.fredrogerscenter.org
Pavilion - "The Sis and Herman Dupre Science Pavilion at Saint Vincent College is more than just a building. It's a symbol of the school's commitment to science education. I am particularly impressed by the facility's innovative design elements -- inspired by science and math themes -- alongside its multi-use labs where different sciences can cross-pollinate their methods, tools, and ideas toward a greater understanding of the physical world. The country needs this right now."
Neil deGrasse Tyson
Astrophysicist, American Museum of Natural History
Director, Hayden Planetarium in New York City
Saint Vincent Gallery - Changing exhibitions throughout the year and permanent collection comprised of several hundred works of art by world renowned artists including Matisse, Picasso, Renoir, Roualt, Toulouse-Lautrec, Andrew Wyeth and others.
Residence Halls - Accommodations available for 1,280 on campus in Bonaventure, Gerard, Rooney, Wimmer and Saint Benedict Halls.
Annual Cost for 2013-2014
· Tuition: $29,540
· Room and Board: $9,812
· % of freshman students receiving aid (from all sources): 100%
For Further Information
College Operator: 724-532-6600
Human Resources: 724-805-2900
Email:
info@stvincent.edu
Home Page:
www.stvincent.edu
Mailing address: 300 Fraser Purchase Road
Latrobe, PA 15650-2690
Saint Vincent College subscribes to a policy of equal opportunity and does not discriminate against any individual on the basis of race, color, sex, religion, age, veteran status, ethnic origin or disability in any of its programs, activities or employment decisions. Opened positions require the incumbent to be able to fully embrace the unique mission and identity of the College as a Catholic, Benedictine liberal arts institution. Saint Vincent College is committed to diversity and encourages applications from all qualified candidates.
PLEASE NOTE: Background checks will be performed on all new faculty, staff and adjunct positions. Employment is conditional upon satisfactory background checks and clearances.