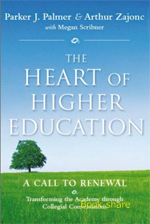 2011 Author in Residence Syllabus
Combine the academic staple of a scholar in residence and the online interaction of a blog and you've got the HigherEdJobs Author in Residence. The blog series focuses on relevant topics related to higher education with discussions that follow trends and opinions of the higher education community.
The Book and the Authors
Parker Palmer, author of best-selling The Courage to Teach, and Arthur Zajonc, professor of physics at Amherst College and director of the academic program of the Center for Contemplative Mind in Society, offer an outstanding call to re-examine and connect with the vision of higher education in their book, The Heart of Higher Education. Palmer and Zajonc discuss the field of integrative education and discuss ideas and propose actions of teaching and learning that encompass the whole human being of the mind, heart and spirit.
Praise for The Heart of Higher Education
"Palmer and Zajonc have issued a compelling call for change and renewal in higher education. They show us how colleges and universities can be transformed by taking a more integrated approach to teaching and learning that focuses on the inner lives of their students and faculty."
-- Alexander and Helen Astin, Higher Education Research Institute, UCLA
"At a moment when many are dreaming of an integrative form of higher education that unites intellectual rigor with compassion and love, Palmer and Zajonc invite us to engage in conversations designed to infuse the academy with meaning, purpose, and soul. For those who yearn to transform colleges and universities from sterile, vacuous spaces to places of hope, possibility, and respect for everything human, this is the book you have been waiting for."
-- Laura I. Rendón, professor of higher education, Iowa State University, and author, Sentipensante Pedagogy: Educating for Wholeness, Social Justice and Liberation
"Parker Palmer and Arthur Zajonc call for a renewal of our commitment to inspiring deeper thinking and educating the whole person. This book should and will inspire debate about our larger purpose, about how we can go beyond the traditional silos in which we work for the sake of individual and institutional transformation."
-- Anthony Marx, president, Amherst College
"What should be at the center of our teaching and our students' learning? Palmer and Zajonc take up this simple but daunting question and provide the most solid ground yet on which to hold a conversation about the heart of our enterprise. They re-imagine higher education in a way commensurate with the magnitude of our problems and offer us practical paths toward implementation. Integrative education is the most important reformation of higher learning since the rise of the modern university. This book can help us achieve it."
-- Anthony Lising Antonio, associate professor of education and associate director, Stanford Institute for Higher Education Research, Stanford University
The Syllabus
Author in Residence, Arthur Zajonc, will discuss the following themes that appear in his and co-author Palmer's book, The Heart of Higher Education:
The Divided Life of Students and Faculty
Contemplative Pedagogy
Neglect of Purpose in Higher Education
Collegial Conversations as the Source of Renewal