Webinar Registration
Join Mark Coldren, associate vice president for human resources at Ithaca College, to look at how institutions can best build a search process that focuses on talent readiness. We will also look at how job seekers can best frame their backgrounds to show that readiness.

Traditional search processes are built upon finding the most experienced candidate. But experience isn't always the most effective way to identify the best talent for your institution. Focusing on experience can actually limit the opportunity to create a deep and diverse pool of candidates and prevent you from finding your ideal candidate.

In this webinar we'll look at innovative ways to make sure that you're finding the candidates you really want to hire.

Key topics to be covered:
Job postings – focus on qualifications and descriptions for ads.
Recruit in the "sweet spot" – you can afford them and they see you as the next step in their career progression.
Candidate screening techniques – connected to institutional goals for diversity and inclusion.
Interview questions - how can you determine readiness? How can you show readiness?
Cover letters and resumes – how to show you are passionate, an avid learner, and ready for the next role.
Can you be intentional about looking for readiness - both inside and outside your institution?
Questions for Mark Coldren? Submit them by tweeting us before May 25 @HigherEdJobs with #HEJAreYouReady or post questions on our
Facebook page
. You can also send your questions to
webinar@higheredjobs.com
.
In addition, there will be a live discussion during the presentation in the comment section of our site. In order to participate in the conversation, you must log in with your
My HigherEdJobs account
or
Disqus account
.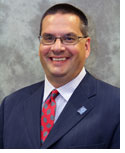 Presenter Bio: Mark R. Coldren
Mark is currently the associate vice president and chief human resources officer at Ithaca College with overall responsibilities for all HR functions including employee and labor relations, compensation, employee and organizational development, payroll, employee benefits, recruitment, diversity and inclusion, and HR systems. Prior to coming to Ithaca College in June of 2007, Mark was a member of the senior leader HR team at Syracuse University and an adjunct faculty member in the Whitman School of Business. Before working in higher education, Mark worked in organizations specializing in manufacturing, sales and distribution, and software development.
Previous organizations Mark worked with include UTC Carrier Corporation, Goulds Pumps, Inc., and Automatic Data Processing. Mark started as a history teacher in the public school system. He is the current past-chair of the College & University Professional Association for Human Resources (CUPA-HR) National Board of Directors.
Mark has a M.S. from Syracuse University and a B.A. from Cortland State University and is a certified Senior Professional in Human Resources (SPHR), 2006-09.
About Ithaca College
Ithaca College, founded in 1892, is a private, residential, coeducational college offering undergraduate and graduate programs in business, communications, health sciences and human performance, humanities and sciences, music, and interdisciplinary studies. There are approximately 6,700 students enrolled with approximately 1,600 employees including faculty and staff.
| | |
| --- | --- |
| Webinar: | "Are You Ready to Find New Talent? Are You Ready to Be Found?" |
| Hosted by: | HigherEdJobs |
| Presenter: | Mark Coldren, SPHR |
| Date: | Wednesday, June 10, 2015 |
| Time: | 02:00 PM Eastern Standard Time, 11:00 AM Pacific |
Please fill out the requested fields below. All information you provide will remain confidential and will never be published or sold. To learn more about how we use information we collect, please see our Privacy Policy.

Indicates required field