Webinar Registration
The Hard Truths of Academic Leadership
It's a hard truth that some - if not many - of the challenges facing a dean or academic vice president aren't always covered in the faculty handbook and may not have a simple solution.

Join James Martin and James E. Samels as they look at the primary challenges met by deans, provosts, and academic leaders - and those who aspire to those positions - both early and late in their careers.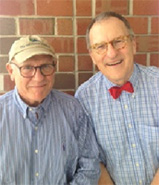 Martin and Samels will share highlights from their recent book, The Provosts Handbook: The Role of the Chief Academic Officer and from their volume in development, The Consolidation of American Higher Education: New Reasons to Partner, Merge, or Close.

Martin, formerly a provost and now professor at Mount Ida College, and Samels, an attorney and president of The Education Alliance, a national higher education consulting firm, will also provide best practices to address these challenges.

In addition, there will be a live Q&A with Martin and Samels after their presentation in the Disqus comments section of the webinar page. In order to participate in the conversation, you must log in with your HigherEdJobs account or Disqus account. You can also tweet @HigherEdJobs with #HEJHardTruths and post on our Facebook page.

Can't attend the webinar? Register and we'll send you a recording after the presentation airs.
Presenter:
James Martin and James E. Samels
Date:
Thursday, October 08, 2015
Time:
02:00 PM Eastern Time, 11:00 AM Pacific
All information you provide will remain confidential and will never be published or sold. To learn more about how we use information we collect, please see our Privacy Policy.
Oops! Please review the highlighted form fields for invalid or missing data.
If you have any questions regarding this issue, please email jobseeker@higheredjobs.com.