Adjunct Faculty - Anatomy
Position Deleted on 4/30/2013. This position is no longer an active posting on HigherEdJobs.
Category:
Faculty - Science - Biology

Posted:
02/28/2013 (Reposted Job: Initially posted on 11/01/2012)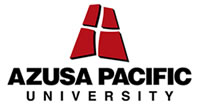 **NOTE** The application and hiring procedures for positions at APOU are different from the traditional Azusa Pacific University main campus. Please follow the online application procedures to indicate your interest. Inquiries for APOU careers must be directed to: (626) 857-2457
Under the supervision of the Director of Academic Affairs, Azusa Pacific Online University adjunct faculty are responsible for ensuring that students meet all learning objectives and successfully complete their course as outlined in the syllabus and that they receive appropriate and timely feedback and assessments throughout the course. Additionally, they will track, monitor, advise, and openly discuss course matters with students as needed throughout the course.
Azusa Pacific University does not discriminate on the basis of race, color, national origin, gender, age, disability, or status as a veteran in any of its policies, practices, or procedures. Women and minorities are encouraged to apply.
© Copyright 2015 Internet Employment Linkage, Inc.